Send a virtual postcard from Florence
The famous typical products in the World
Things to Know
About Florence
Florence (Firenze) is the regional capital of Tuscany, in the centre of Italy. A town with a turbulent and action-packed history, Florence is now packed with tourists being shepherded around the city's museums. The town is situated on the river Arno, which is spanned by the famous Ponte Vecchio, the only of Florence's bridges not to be blown up in the Second World War. Florence's most striking landmark is Brunelleschi's dome on the Duomo, and its most reproduced sight is Michelangelo's statue of David.

When to go

In summer, at the height of the tourist season, Florence can be heaving with tourists, as well as uncomfortably hot. But Florence is a tourist city, and its artistic attractions are indoors, so the town is really an all-year-round destination. You're unlikely to find Florence empty; but visiting away from the summer peak should make the infamous queues a little shorter.
Florence advice

On arrival, visit the Tourist Information Office opposite the station, where you can pick up a free town plan and a vital piece of equipment - a list of museum opening times and prices. Some museums and galleries are open only in the morning, others may close one or two days a week, so you really need to plan your sightseeing if you want to get the most from your trip. It's also worth visiting the ATAF bus station alongside the railway station to pick up a free bus map and a couple of tickets.
Get out of town. If you're in Florence for several days you will probably begin to suffer from the crowds, heat, museum-fatigue. It's a great idea to take a trip out into the Tuscan countryside. Visit one of the Medici villas, explore the hills and vineyards by bus or car, or see another town - Siena or San Gimignano, for example.
Reductions at museums: if you are an EU citizen and are over 65, under 25 or a student, you can obtain reductions at some of Florence's sights. Bring your passport and any other ID to confirm your status.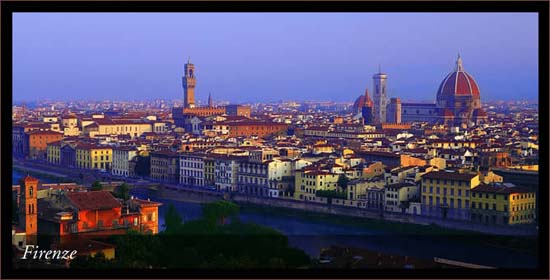 Florence is one of the most popular travel cities in Italy and holds many attractions for the tourist. Florence, a Renaissance city in the heart of Tuscany, has some of Italy's best museums, beautiful cathedrals and churches, and interesting streets and squares with elegant buildings and shops.
Here are the top attractions tourists want to see. Most of them lie in Florence's compact centro storico (The Centro Storico is the historical center of an Italian city).
Things to Know in Florence Things to see in Florence Things to Try in Florence Things to Experience in Florence Florence Itineraries Shopping in Florence
Italy virtual tours
Your free Italy Virtual Tours
Dear Friends,
Welcome to Italy safe Holiday, FREE Virtual Tours of Rome and Italy! We will take you to all the famous monuments of Italy, tell you about Italian history and legends, and share with you the best deals on hotels and restaurants. Also, discover the most famous shops, and learn all kinds of priceless Italy travel tips. We hope you come back and visit us often, as our 'Virtual Trips' are updated regularly!
Italy is geographically divided into 20 regions