Send a virtual postcard from Florence
The famous typical products in the World
Church of San Lorenzo
The Basilica di San Lorenzo (Basilica of St Lawrence) is one of the largest churches of Florence, Italy, situated at the centre of the city's main market district, and the burial place of all the principal members of the Medici family from Cosimo il Vecchio to Cosimo III. It is one of several churches that claim to be the oldest in Florence; when it was consecrated in 393 it stood outside the city walls. For three hundred years it was the city's cathedral before the official seat of the bishop was transferred to Santa Reparata. San Lorenzo was also the parish church of the Medici family. In 1419, Giovanni di Bicci de' Medici offered to finance a new church to replace the eleventh-century Romanesque rebuilding. Filippo Brunelleschi, the leading Renaissance architect of the first half of the fifteenth century, was commissioned to design it, but the building, with alterations, was not completed until after his death. The church is part of a larger monastic complex that contains other important architectural works: the Old Sacristy by Brunelleschi; the Laurentian Library by Michelangelo; the New Sacristy based on Michelangelo's designs; and the Medici Chapels by Matteo Nigetti.
| | | | |
| --- | --- | --- | --- |
| South wall and cloister arcade | Photo, interior, looking toward altar | Photo, interior, ceiling detail | Photo, exterior, lantern of dome |
| Photo, exterior, end elevation overview | Photo, exterior, door | Photo, exterior, cloister courtyard | Photo, exterior overview |
| Photo, cloister loggia | Lower wall and portals, from east | | |

Open Mondays through Fridays from 10 a.m. to 5:30 p.m.
Closed weekends from November through February; from March through October open from 1:30 p.m. to 5:30 Entrance fee € 2,50


Visualizzazione ingrandita della mappa
Florence is one of the most popular travel cities in Italy and holds many attractions for the tourist. Florence, a Renaissance city in the heart of Tuscany, has some of Italy's best museums, beautiful cathedrals and churches, and interesting streets and squares with elegant buildings and shops.
Here are the top attractions tourists want to see. Most of them lie in Florence's compact centro storico (The Centro Storico is the historical center of an Italian city).
Things to Know in Florence Things to see in Florence Things to Try in Florence Things to Experience in Florence Florence Itineraries Shopping in Florence
Italy virtual tours
Your free Italy Virtual Tours
Dear Friends,
Welcome to Italy safe Holiday, FREE Virtual Tours of Rome and Italy! We will take you to all the famous monuments of Italy, tell you about Italian history and legends, and share with you the best deals on hotels and restaurants. Also, discover the most famous shops, and learn all kinds of priceless Italy travel tips. We hope you come back and visit us often, as our 'Virtual Trips' are updated regularly!
Italy is geographically divided into 20 regions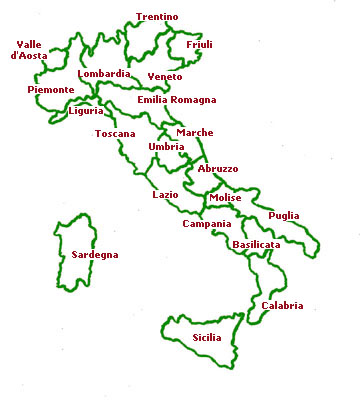 SEND US YOUR EXPERIENCES OF TRIP THE BEAUTIFUL THINGS TO BE RECOMMENDED AND THOSE NEGATIVE PROMOTE YOUR CITY POINT OUT US THE THINGS TO SEE THE PLACES WHERE TO GO TO EAT WITHOUT TAKING CHEATS WHICH ARE THE 10 MONUMENTS ABSOLUTELY TO SEE IN ITALY FOR YOU?
Custom Search