Send a virtual postcard from Florence
The famous typical products in the World
FLORENCE ITINERARIES
Baptistry
The Florence Baptistery or Battistero di San Giovanni (Baptistery of St. John) is a religious building in Florence (Tuscany), Italy, which has the status of a minor basilica. The octagonal Baptistery stands in both the Piazza del Duomo and the Piazza di San Giovanni, across from the Duomo cathedral and the Giotto bell tower (Campanile di Giotto). It is one of the oldest buildings in the city, built between 1059 and 1128. The architecture is in Florentine Romanesque style. The Baptistery is renowned for its three sets of artistically important bronze doors with relief sculptures. The south doors were done by Andrea Pisano and the north and east doors by Lorenzo Ghiberti. The east pair of doors was dubbed by Michelangelo "the Gates of Paradise". The Italian poet Dante Alighieri and many other notable Renaissance figures, including members of the Medici family, were baptized in this baptistery. In fact, until the end of the nineteenth century, all Catholic Florentines were baptized here.

Florence is one of the most popular travel cities in Italy and holds many attractions for the tourist. Florence, a Renaissance city in the heart of Tuscany, has some of Italy's best museums, beautiful cathedrals and churches, and interesting streets and squares with elegant buildings and shops.
Here are the top attractions tourists want to see. Most of them lie in Florence's compact centro storico (The Centro Storico is the historical center of an Italian city).
Things to Know in Florence Things to see in Florence Things to Try in Florence Things to Experience in Florence Florence Itineraries Shopping in Florence
Italy virtual tours
Your free Italy Virtual Tours
Dear Friends,
Welcome to Italy safe Holiday, FREE Virtual Tours of Rome and Italy! We will take you to all the famous monuments of Italy, tell you about Italian history and legends, and share with you the best deals on hotels and restaurants. Also, discover the most famous shops, and learn all kinds of priceless Italy travel tips. We hope you come back and visit us often, as our 'Virtual Trips' are updated regularly!
Italy is geographically divided into 20 regions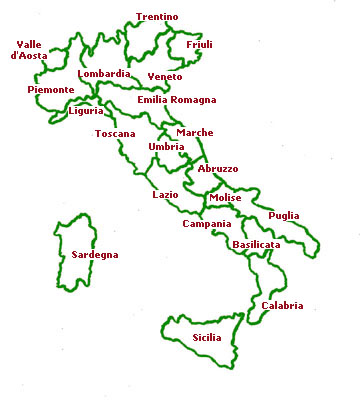 SEND US YOUR EXPERIENCES OF TRIP THE BEAUTIFUL THINGS TO BE RECOMMENDED AND THOSE NEGATIVE PROMOTE YOUR CITY POINT OUT US THE THINGS TO SEE THE PLACES WHERE TO GO TO EAT WITHOUT TAKING CHEATS WHICH ARE THE 10 MONUMENTS ABSOLUTELY TO SEE IN ITALY FOR YOU?
Custom Search