Send a virtual postcard from Florence
The famous typical products in the World
ART AND CULTURE

LeonardodaVinci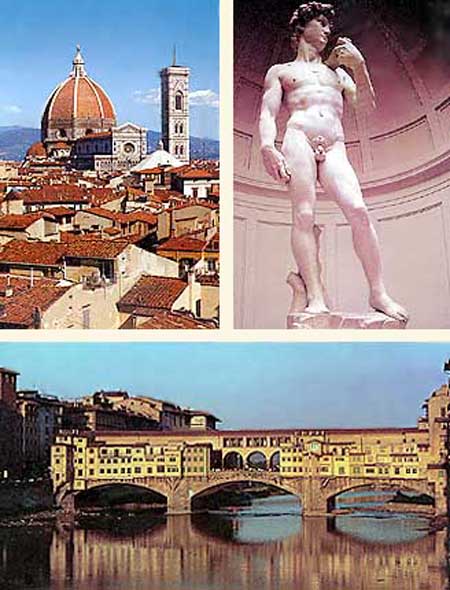 Italian art has engendered great public interest and involvement, resulting in the consistent production of monumental and spectacular works. In addition, Italian art has nearly always been closely allied with the intellectual and/or religious currents of its day while retaining its own remarkable past as a continual source of inspiration. Florence is called the capital of arts; according to statistics produced by UNESCO, 60% of the world's most important works of art are located in Italy and approximately half of these are in Florence.
From the 13th to the 16th century it was a seemingly endless source of creative masterpieces and Italian genius. Both Dante and Michelangelo were born here. Boccaccio wrote his 'Decameron' in Florence. The Italian Renaissance, Europe's richest cultural period, began in Florence when the artist Brunelleschi finished the Duomo, with the huge dome.
During the Italian Renaissance Florence acquired its renaissance palaces and squares, turning it into a living museum. Many squares, such as Piazza della Signoria exhibit famous statues and fountains. Florence is also a city of incomparable indoor pleasures. Its chapels, galleries and museums are an inexhaustible treasure, capturing the complex, often elusive spirit of the Renaissance more fully than any other place in the country. The most famous museum in Florence is the Uffizi which houses works by Botticelli, Leonardo da Vinci, Michelangelo, Titian and Rubens. Other great art museums include the Pitti Palace, Galleria dell'Accademia and Palazzo Vecchio. Florence is also home to some of the biggest churches in Italy, including the famous Duomo of Florence, San Lorenzo, Santa Maria Novella and Santa Croce.
Florence attracts a high proportion of international travelers to Italy. The city is an active centre of art and culture, and organizes periodical exhibitions and art festivals. Take for example the summer, when music, cinema, dance and theatre pour out onto the streets and into the squares. There are several outdoor cinemas to be found in Florence, one in the grounds of an old villa where the film is projected onto a screen on the facade of the villa. Nearly all the squares are open in the summer months providing entertainment every evening along with refreshment and spectacular views of the surrounding buildings. The other seasons areno exception however as Florence's theatres draw in the crowds with the operas, ballets and special guests, the many venues that Florence is blessed with host exhibitions, concerts, shows and rare collections of paintings. Florence's blends its art and culture in such a way that you'll find there's always something new to see, do or experience, as it offers endless opportunities to become intimately acquainted with the artistic, architectural, literary, and cultural achievements of Italy's past.
Things to Know in Florence Things to see in Florence Things to Try in Florence Things to Experience in Florence Florence Itineraries Shopping in Florence
Italy virtual tours
Your free Italy Virtual Tours
Dear Friends,
Welcome to Italy safe Holiday, FREE Virtual Tours of Rome and Italy! We will take you to all the famous monuments of Italy, tell you about Italian history and legends, and share with you the best deals on hotels and restaurants. Also, discover the most famous shops, and learn all kinds of priceless Italy travel tips. We hope you come back and visit us often, as our 'Virtual Trips' are updated regularly!
Italy is geographically divided into 20 regions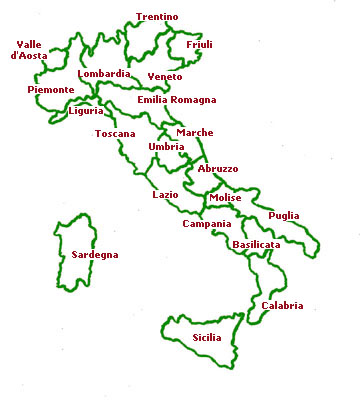 SEND US YOUR EXPERIENCES OF TRIP THE BEAUTIFUL THINGS TO BE RECOMMENDED AND THOSE NEGATIVE PROMOTE YOUR CITY POINT OUT US THE THINGS TO SEE THE PLACES WHERE TO GO TO EAT WITHOUT TAKING CHEATS WHICH ARE THE 10 MONUMENTS ABSOLUTELY TO SEE IN ITALY FOR YOU?
Custom Search